[Lesson 4.1] Next Steps (Part 1)
Congratulations from the CitizenShipper team! Winning your first shipment on CitizenShipper is a huge achievement and an important milestone for many reasons: .. Winning your 1st shipment is important:
If you haven't expedited your background verification, it will now be processed. Your profile will include your status as

Background Certified

which will give you an advantage moving forward. Your profile will now include a new, critical component - a "number of times booked" statistic! While you're still a newcomer, you have proven your value to a shipper. You can use that fact to target additional business. You'll get an opportunity to secure your first customer review! This is the biggest driver of future bookings and it's within your grasp! Make sure you secure a great review!

An automated intro feature will be automated, allowing you to reach customers with a simple click!

It's rewarding to watch your profile expand with each shipment won.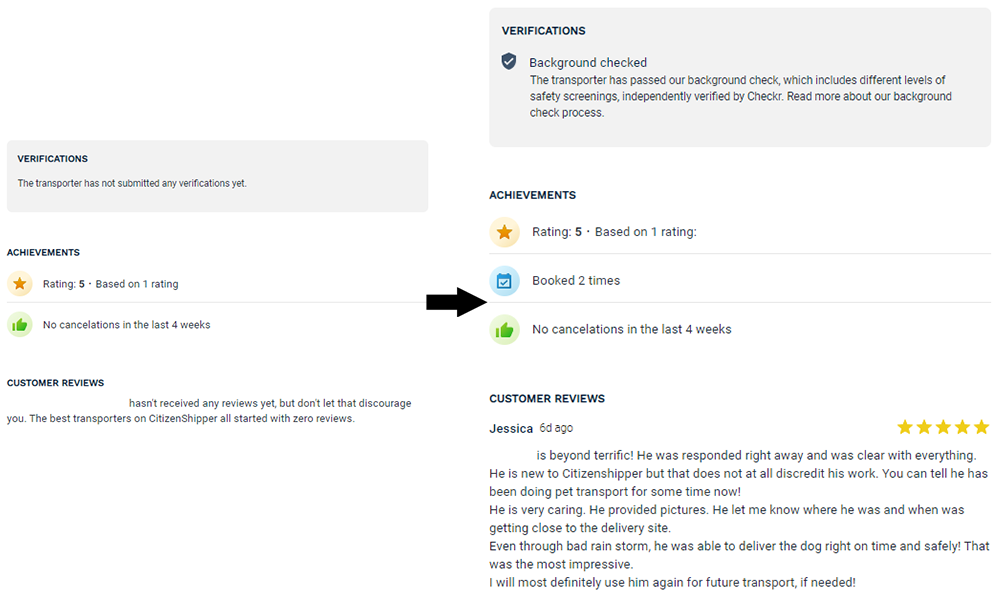 To start on the "right foot" and develop a solid track record on CitizenShipper, this lesson will help you master two very important steps. These 2 steps are not just essential for your first booking, but stand as best practices for your bookings that follow:
Step #1

: Your first off-site contact with the customer

Step #2

: Documentation - pet health certificate and contract
---
Your first off-site contact with the customer
Before the booking process is complete on CitizenShipper, all communication with potential customers must flow through the communication tools on our site. This is to ensure the safety and privacy of both you and the shipper until you are both comfortable enough with each other to complete a booking. It also creates an audit trail so you know you were chosen to complete a transport for a specific shipper because you will receive SMS and email confirmation as confirmation. Those notifications will include personal contact information for you shipper, whom you can now contact personally: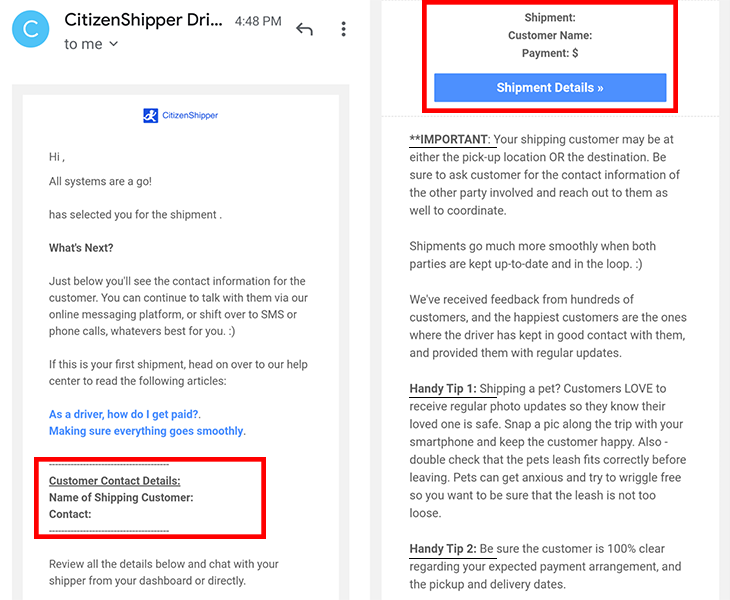 As shown above, the email you received will confirm your booking and include the information you need to reach out to your customer. The email will also detail the agreed-upon itinerary details, along with a couple of important tips regarding the transportation process itself (like providing photo and location updates regularly) as well as payment agreements).
We recommend connecting with the customer promptly to confirm the following issues to help ensure a positive transport experience:
Ask the customer if he or she is the only party with whom you will coordinate the transport. Is there someone else on the receiving end with whom you will need to work with?

Go over, in detail, every part of the transport so the shipper knows exactly what to expect from your service. For example, the trip will take so many days, you will make this many stops, you will be transporting this many other dogs on the same shipment when the shipper will receive updates, and how often. The goal here is for there to be no surprises for the shipper.

Confirm what the quote does and does not include and the method of payment.
Ensure both parties agree on all the terms and conditions of the transport to create an official agreement. (In the next section, we'll talk more about this and give you a link to an official transport agreement from our site that you can use and modify for use with your customers.
Documentation - pet health certificate and contract
After confirming the details with all parties involved in the shipment, the next step is to confirm the health of the pet being transported. Because many transports involve long distances, the pet you are transporting must be in good health and properly vaccinated to avoid any issues during the process. The current pet owner should supply forms from the pet's last exam, as well as the pet's vaccinations record. Securing these items helps assure you that you are not transporting a sick animal without knowledge of it.
Upon getting a clean bill of health for the pet, you are now ready to create an official transport agreement between you and the shipper who booked you on CitizenShipper. The agreement should include all the terms and conditions agreed to by all parties involved in the shipment, including the amount the customer will pay you for your service. If you need some help putting an official agreement together, you can download and adjust this template to get started. Please be advised that this should not be considered as legal advice from CitizenShipper or any of its team members or representatives. Also, when the official agreement involves different shipping and receiving party, you can include a record of the disposition of dogs and cats to specify and confirm those details. This form can be downloaded here.
---
Now that you're documentation is ready to go, let's move on to Part 2 of this lesson, where we'll talk about how to prepare for and ensure your first transport goes smoothly!
Got any questions or difficulties? Please don't hesitate to ask for assistance in the comments section below.
Complete and Continue