[Lesson 1.2] Setting up your profile
In this lesson we will accomplish the following:
Step #1

: Updating your Profile

Photo
Step #2:

Updating your Profile

Name
Step #3:

Updating your Profile

Offerings
For the best illustration of some of the most successful transporter profiles, check out this amazing blog article!
---
Updating your Profile photo
Photos are a crucial part of creating your driver's profile – uploading them can make all the difference when it comes to being successful on CitizenShipper. To add/update your photos and set your profile photo - follow the screenshot below or click here if you are already logged in 👇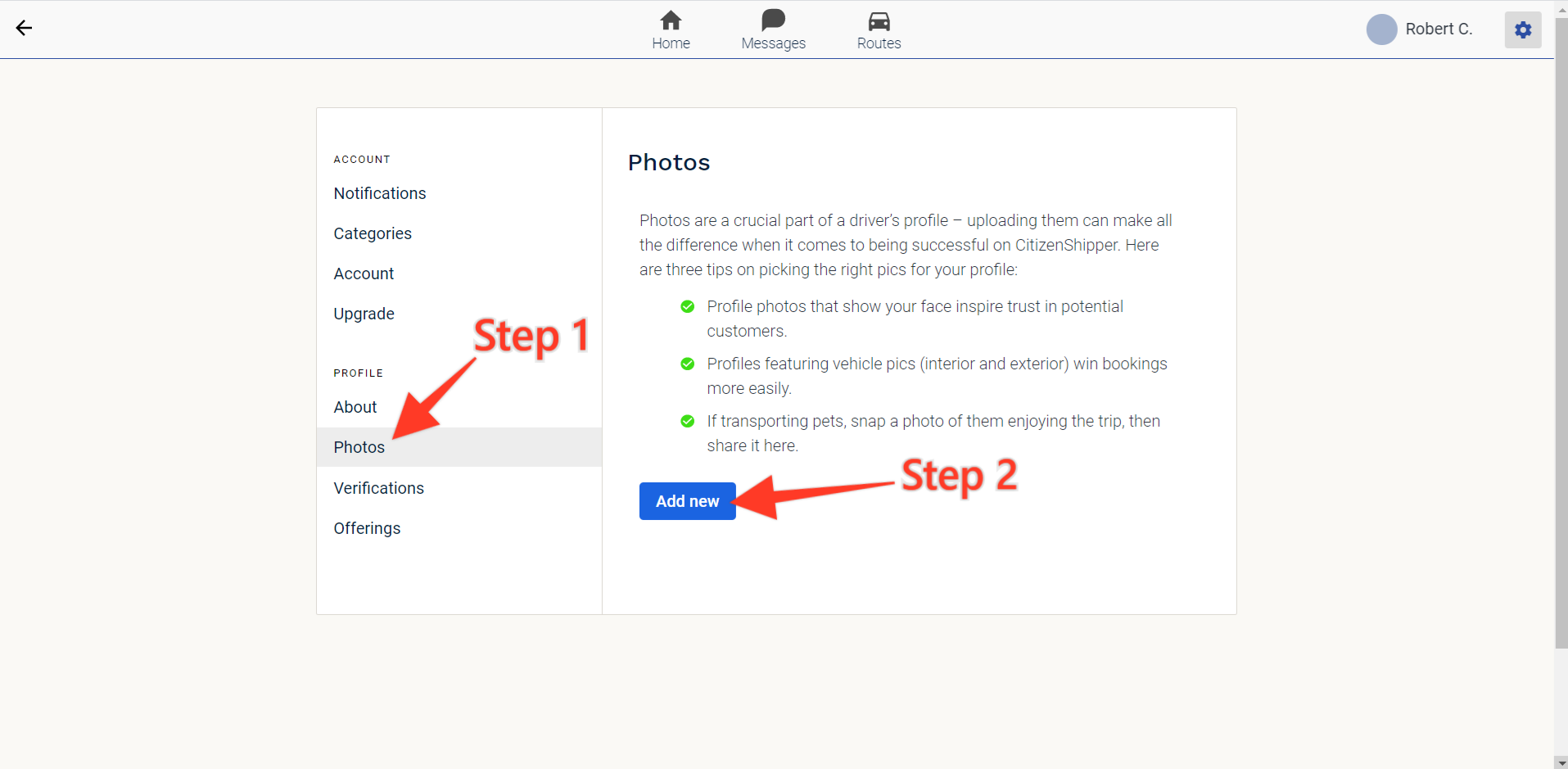 This opens your photo gallery, allowing you to upload a profile pic and any other photos you might want to share with the customers.
Photos are a great way to improve your profile and reduce customer anxiety. Pet owners like to see who and what they are getting. In addition to what's shown in the screenshot above, here are a couple more tips on getting the best shots for your profile:
Get plenty of natural light. Go outside or stand by a big window.

Don't do hip shots or webcam shots in poor light. (These can look a bit eerie 😬)

Try to appear positive and professional. Smiling is recommended.

For your main profile pic, choose one with your face in it. This is the first impression your customers will receive, and they'll want to see a person they can trust rather than some van.
In addition to personal photos, feel free to also upload any of the following:
Sights from the road

. These help customers see what it'll be like working with you.

Snaps of your vehicle

. Customers will want to visualize how their pet fits inside your car.

Special equipment

. If transporting cargo that needs special gear, it's a good idea to show it.
Updating your Profile Name
To change your profile name - follow the screenshot below or click here if you are already logged in 👇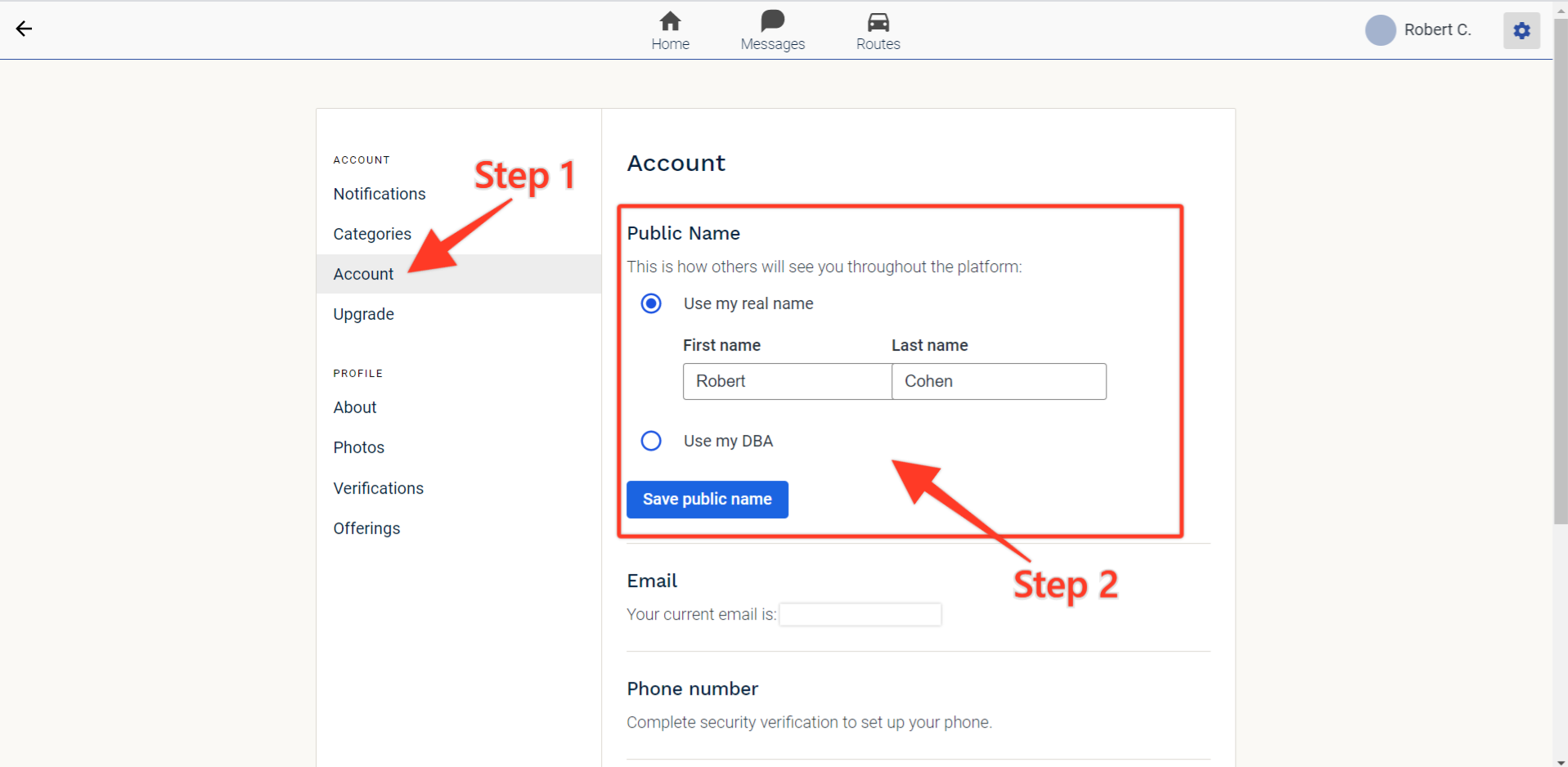 You can choose between your personal name and a Doing Business As (DBA) name to be used across the platform. The name you choose will show on your public profile, on the bidding list, in the Messages, and more.
There are no hard and fast rules as to what kind of name will help you succeed more. Some customers prefer a personal name because it suggests a more personal experience. Other shippers like the fact that you are potentially looking to expand and run a small business with multiple team members, and thus they would rather book someone who is "doing business as X"
Note: Once your background check report clears, you won't be able to change your personal name.
Updating your Profile
Offerings
This new feature (as of June 2020) allows you to showcase any additional services you're offering. You can update your offerings by going under your Profile settings and then click on Offerings, or click here if you are already logged in.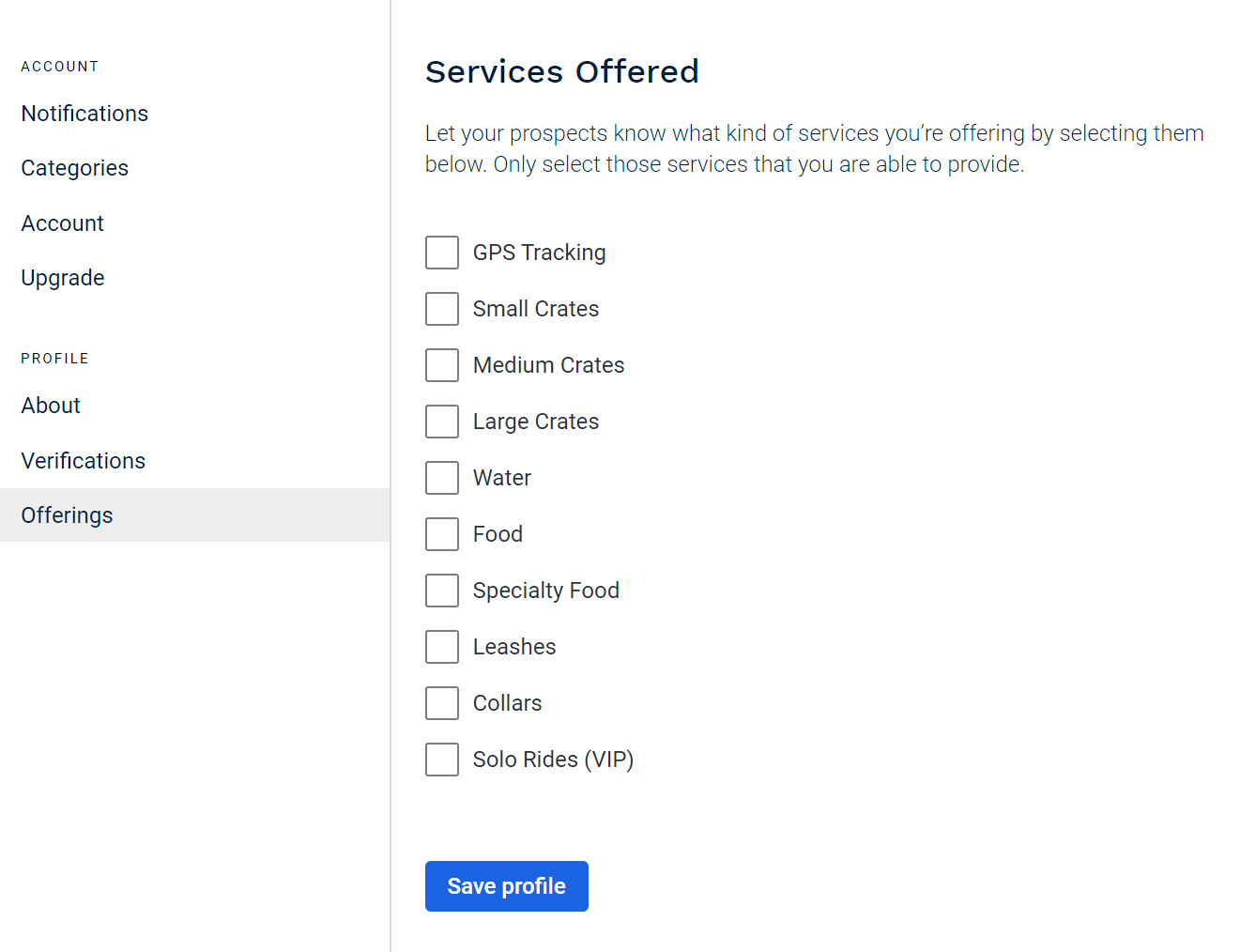 For example, if your customers can get GPS trackers attached to their pets' collars for extra security, simply check the box next to "GPS Tracking" to let them know. This information will be displayed on your profile page, accessible to all who visit it.
Note: You can also include the GPS offering in your profile if you can share your live location with the customer.
Here are a few ways you can share your location with your customers:
Learn more about how to share your location using your

iPhone

.
In iOS 13 or later, you can use the Find My app to share your location with future customers.
Learn more about how to share your location using your

Android phone

.
You can choose who can find your location and for what length of time, with Google Location sharing.
---
We hope that this lesson will help you start creating the best possible presentation of yourself or your business. We would sincerely appreciate your comments and suggestions below.
Complete and Continue