[Lesson 2.2] How to get notifications for new shipments?
Now that you've completed your profile and learned the basics about site navigation, it is time to proceed with tips on how to set up your notifications and start searching for relevant shipments. Therefore, this lecture will cover the topic of:
Step #1

: Your category settings

Step #2:

Your notification settings - preferred medium and types of notifications

Step #3:

Pro Tips

Step #4:

Setting up city and state notifications
---
Your category settings
It is very important to opt-in to receive notifications to stay on top of new listings and respond quickly to ones that interest you. Remember: Drivers are more likely to win shipments if responses to listings and shipper messages are fast!
The first step in this process is to define the categories in which you wish to receive notifications. Since you probably already have made your choice during the signup process, you may not need to revisit the "Categories".
But in case you'd like to add something that you're interested in transporting, you can do so within your "Settings" page.
→
Your notification settings - types of notifications and how you receive them
After defining your preferences on shipment categories, the next step is to choose the preferred notifications method from your "Notifications" menu. CitizenShipper allows you to choose between and both email or SMS message notifications for various types of marketplace activities: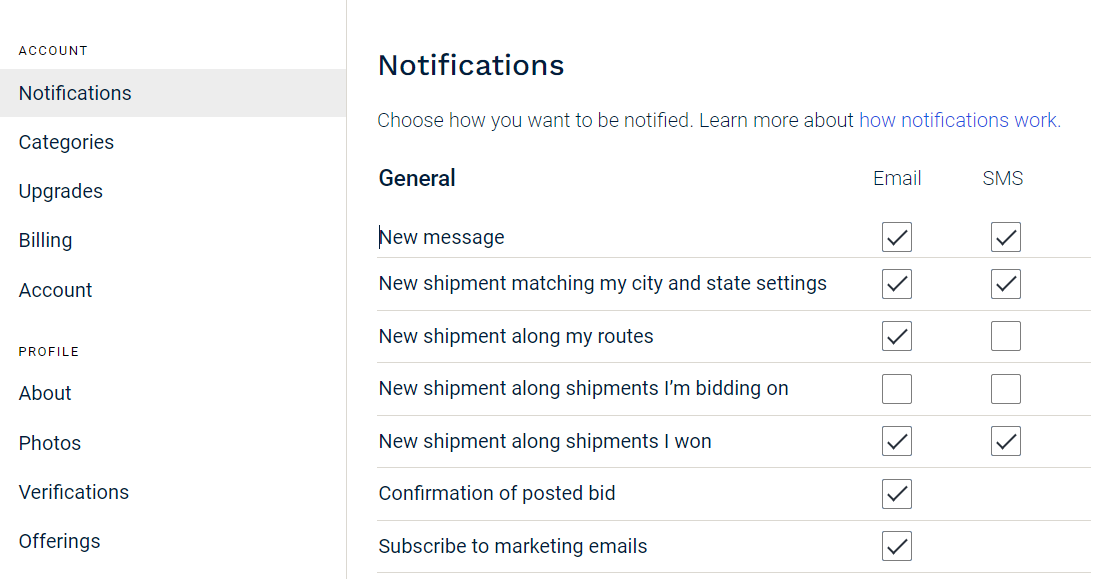 Pro Tips
Once you create an account, based on previous driver feedback and best practices, we set your notifications automatically to provide you with the most relevant information about your customer responses, newly listed shipments matching your currently specified location or route. If you want to continuously receive relevant information, make sure to carefully read the lesson on Bidding (which will come soon) and learn how to retract your bids, so that notifications for new shipments along shipments you're bidding on are always relevant to where you are planning to go.
Setting up city and state notifications
When you sign up with CitizenShipper, our system automatically aligns you with category notifications that reflect the city and state you listed in your set-up inputs. This is usually sufficient to become acquainted with the volume of jobs around you. However, if you want to receive notifications to expand how far you'll go for a pick-up or are looking to add shipments while en route to make the most of transport, you must edit your city and state location manually. To choose cities and states manually, please follow the instructions below:
Visit your

notifications tab

and scroll to the bottom. To specify a city, simply click on the

"Search for locations…"

box and start typing your preferred city by name and choose the most relevant option from the dropdown menu to be added. After selecting the appropriate option, click on the

"Save settings"

button and you should only be able to see shipments going from the city specified in your

"Recommended"

tab.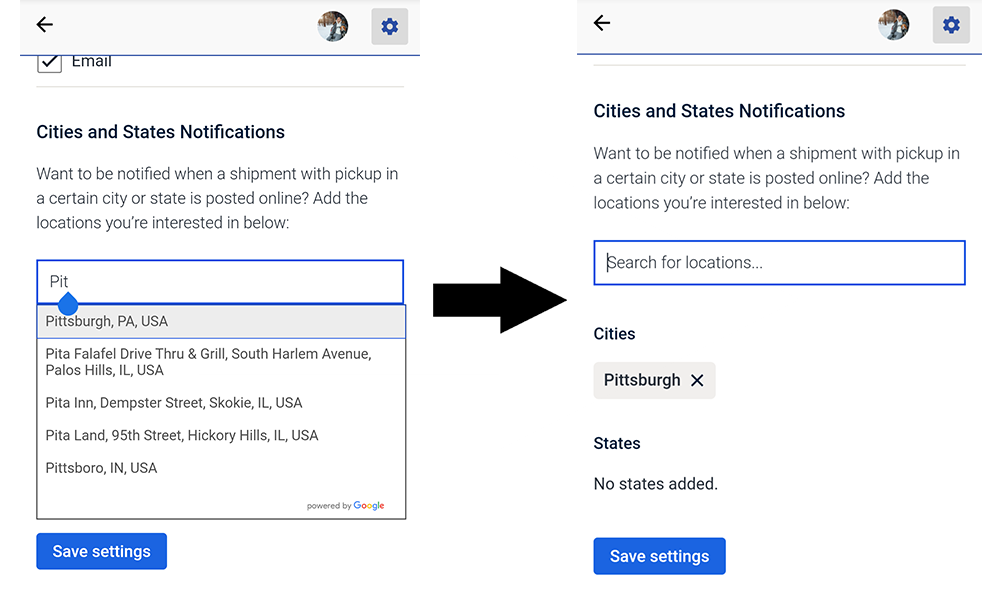 To specify a state, the best way to be sure that you will select a state vs, a city is to type a state abbreviation and click the space button on your keyboard, or to type a comma and the USA (so Instead of Pennsylvania, you can type PA, USA)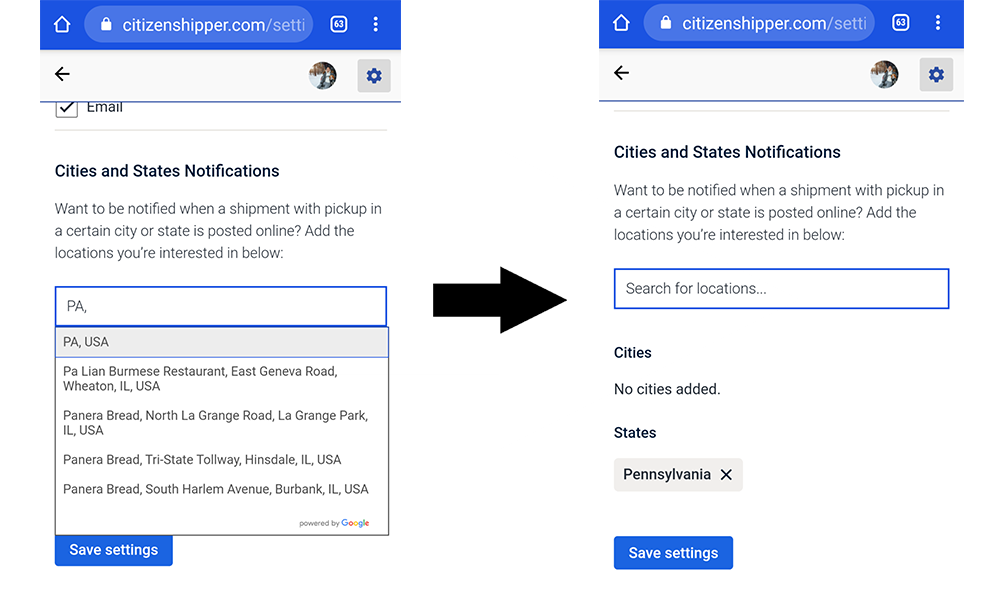 ---
Pro Tips
Since your current location might not be your permanent residence and/or your permanent residence might be fairly close to another major city or state, these are the best practices to define your preferred settings:
If you specify a city and a state in which that city already is, bear in mind that you will receive notifications for the entire state and not just that city.

The reason why you should observe our marketplace on a wider level is that if you specify a small city you might reside in, you will only receive notifications for that ZIP code, potentially missing out on a great shipment listed just a couple of miles away from you.

Be careful when choosing states in your settings. Much more relevant is the distance between your home address and your pick up. A great example of this is that if you live in Dallas, TX, you will spend less time and gas driving to far south Oklahoma compared to Houston, TX for your pick up.

Consider adding all the states that would fall within your 100-150 mile radius and receive notifications for those states.
EXAMPLES:
If your settings indicate you live in Chicago, IL, you'll receive notifications for listings in Chicago and any other job in Illinois. That means that you will receive notifications of jobs with pickups that are more than 200 miles away (for instance, Springfield IL) and not ones that are closer in the states of Wisconsin and Indiana.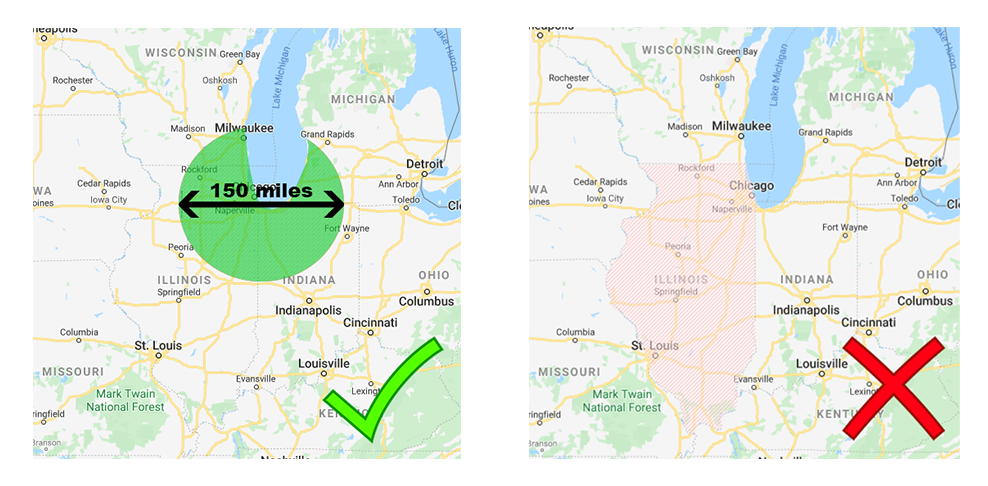 For someone living in Newark, NJ the situation is a bit different - your state might not be big enough for you to just focus on shipments originating from it. By following the "100-mile radius" rule, anyone living in New Jersey should consider adding Pennsylvania, New York, Maryland, Delaware, and Washington D.C. as their preferred job search locations.

So to summarize, try to "think outside of the box" when it comes to defining your notification settings. And in case your current residence doesn't fit the examples above, the next lesson is ever more critical for you, as we dig deeper into the topic of how to use our search tool!
---
Does your current location allow you to adopt these tips? Comment below if you have any difficulties setting up your city and state notifications.
Got any questions about how to update your notifications to get the most relevant email and SMS messages? Feel free to ask us anything in the comments below.
Complete and Continue