[Lesson 3.1] Communicating with your potentials customers
In this lesson, we are going to cover how to communicate with potential customers. Communication is the foundation for success in this platform and industry. Being able to quickly and efficiently communicate your services is instrumental in building rapport and trust with potential customers. Good communication leads to winning shipments. Over the next few lessons, we are going to prep you with all the materials necessary to properly sell your services as well as address the pain points of your future customers.
Step #1:

Understanding the importance of your first impression.

Step #2:

Using an introduction message.

Step #3:

Pro Tips (Must read!)
---
Understanding the importance of your first impression
First impressions matter, a lot! The first impression you leave on your potential customer shouldn't be a price or number. Placing a bid before having communicated with your potential customer leaves you with no leverage or recourse to justify your bid and the value you bring to the transport. Don't let low bidders stop you from writing and sending a meaningful intro message that helps customers feel comfortable with you!!
Note: This is not an auction marketplace, but rather a place where you connect with real humans that have real anxiety over the fact that they are trusting a stranger to transport their pet/family member!
Even with no experience in the industry, drivers regularly provide exceptional service worthy of 5 stars. Listed below are a few "value points" that are easy to address with proper communication 👇
Trust

Relieving anxiety

Quality

10/10 Customer service
Intro message 101
The content of your first message to a customer can be the difference between winning a shipment or not. So it makes sense to put time and energy into your intro messages.
Here's why: Imagine, you're a pet owner in need of transportation. You're probably a little nervous as you've never shipped your puppy before, and you want to make sure your pup is in n good hands. The key is applying some simple customer relations skills. This is where conveying your value plays a huge role. Let the shipper know a little about your driving history and your experience with their specific type of shipment. Most successful drivers send an intro message that addresses the following - building trust, relieving anxiety, proving quality, and reminding the customer you are there for him or her.
If the shipper seems anxious, thinking about offering to send regular picture updates from the road to assure him or her that the transport is going well and the pet is enjoying the ride. This can be a great way to increase customer confidence and improve your chances of winning the bid.
But what exactly makes a good introduction? How do you stand out and turn a prospect into a happy customer?
These are great questions that are addressed below. Yes, these intros are a bit lengthy but it is definitely worth the time to create them. Intros Are one of the most important tools you have to put yourself in a winning position with customers. 🙌
---
Be fast:

No matter how great your intro is, if you wait too long to send it, you will lose the shipment. A

major sales study

of almost 3.5 million leads across different industries found that if you reach out to prospects in the first minute of their inquiry, your chance to win that prospect goes up

by 400%

. This aligns with our data which shows that

56% of shipments

get booked in the first hour. The faster you reach out to prospects, the higher your chance of winning a shipment is.
Make sure you set up your notification and route settings and keep a close eye on the shipment feed. 👀
Be positive:

Have you ever seen a negative, pessimistic salesperson do well? Neither have we. Science says that being positive gives you more of a chance to win customers.

One study

found that waiters who simply said "good morning" and wrote a positive weather forecast on the back of the checks were able to increase their tips by 27%. If your intro message has a positive tone, it gives you a better chance of being booked for the shipment. Similarly, don't talk bad about other drivers or the platform or bring up worst-case scenarios. There's a psychological

phenomenon

where our brain associates negativity with the person who's doing the talking. You say something negative about other drivers – they associate it with you.

Demonstrate skill and experience:

Next, give your prospects an overview of your experience. Don't worry if you don't have years and years of it, just make sure they don't walk away uncertain whether or not you can do the job, as this is one of the biggest customer anxieties. If you have any licenses or certificates related to the job, be sure to mention them. When it comes to transporting animals, the shipper needs to feel confident their pet is in good hands.

Ask for a response:

It can be hard to understand why people who list shipments fail to reply to your messages. One way to increase your chance of a response is to explicitly ask for customer feedback. It helps if you can demonstrate urgency too, but don't fake it or be too aggressive. Let them know you need to plan your routes and would prefer a quick response.
Another technique is to provide an "action plan" – outline the next steps you would take with the transport if the shipper decides to proceed.
We've prepared a few sample Intro Messages for you that can be used for a range of scenarios. 👇
Using an introduction message
Sample Intro #1 - Experienced pet transporter
Hey Lisa, my name is Natasha, and I'd LOVE to help you with your upcoming transportation job!
I've been driving for 25 years, with no accidents, fully insured and I drive a 2016 Land Rover with plenty of cargo space! I've been driving on CitizenShipper for a few months now and have over 15 completed shipments, and hold a 5 out of 5 stars rating!
I also hold a USDA license and am fully qualified to transport pets, and have been transporting cats and dogs professionally for 9 years now.
I have a pet carrier should you not have one yourself, and your dog will be transported safely in the carrier. We stop every 90 minutes for restroom and walking breaks. I have a GPS tracking app so you can track my exact location at all times. I'll also take regular photos of your puppy and keep you updated every step of the journey. :)
I won't be traveling with any other pets for this run, so your pet will be traveling exclusively with me, and I can offer you a very fair price!
I get booked up with new jobs pretty quickly so please let me know as soon as possible. Thanks! :)
Sample Intro #2 - New transportation provider
Some new drivers won't have much relevant experience or feedback on the site, so they will have to emphasize other selling points. Here's a sample intro for a new transportation provider:
Hey John, my name is Mike, and I'm available to help you with your upcoming shipment.  
I've been driving for 18 years with no accidents, I'm fully insured, and I drive a Dodge Ram with a trailer that's roomy and can safely transport your motorcycle! I have straps and cables to make sure your bike is safe and will arrive at the destination in perfect condition.
I'm new to CitizenShipper so I haven't built up any feedback yet, but I'm committed to doing a GREAT job here, and because I want to build up my profile and feedback I'm prepared to offer you a great deal on this shipment, to help me get started and build up my reputation.
I'll provide regular updates throughout the trip and you'll be able to track me using a GPS app on my phone.
I hope you'll allow me to work with you! I can guarantee an excellent job!
Sample Intro #3 - Experienced transportation provider
Hey Kate, this is Jim from Perfect Pet Transport. My wife and I work as a team and we'd love to help you with your upcoming transportation job!
I've been driving on CitizenShipper for a little over a year now with a perfect 5-star rating and 60+ reviews from satisfied customers. Head on over to my profile page to see what others are saying about me. :)
People like working with me because I'm a pet lover myself and so I completely understand how anxious it can be transporting a member of your family! What we do is take regular breaks every 90 minutes while sending you pics and keeping you updated every step of the journey! You can rest assured your Collie will be in safe and loving hands with my wife and I. Your Collie will not be treated like cargo but as a member of the family. Because there are always two of us in the vehicle, we can always give your pet 1 on 1 attention and make sure they're happy and relaxed. We pride ourselves on a stress-free experience for both you and your pet. :)
We do not require a crate, but if you prefer your pet to be crated during the journey, we can provide one for you at no extra charge.
We will be staying at pet-friendly hotels and anticipate one overnight stop, based on the distance. We'll be driving from the pickup to the destination direct, with no additional pets in the vehicle. Our bid includes grain-free food, purified water, cleaning solutions, and door to door service. Your pet will be fed once a day and watered three times a day. Pet's under six months are fed twice a day. Current shots, IDs, and signatures will all be required for pickup.
Please let me know your budget for this, and get back to me as soon as possible because we get booked up fast!
Thank you and I look forward to working with you! :)
Sample Intro #4 - No shipment category specified
Hey there! I'm Camilla of Quickstep Transport. I just saw you listed a transportation job and I'd love to offer my services!
I've been driving for 20 years, with no accidents, fully insured and I drive a 2017 Chevy Silverado. I hold a 5-star rating on CitizenShipper and can perform your transportation job quickly and professionally.
My price includes door-2 door pickup and delivery, direct ground transportation, Live GPS tracking, signature capture at pickup/delivery. I accept most forms of payment including Venmo, Paypal, credit cards, cash, and check.
We have routes every month that fit closely with your dates, and most shipments are same-day or next day delivery.
We get booked up quickly so please respond as soon as you can so we can offer you the best possible rates.
Do you have any particular budget in mind?
I very much look forward to hearing back from you.
Pro Tips
For this exercise, let's assume you've sent your first message to several prospective customers, but none have responded to it. The way you will be able to know if you've sparked their interest is by looking at which of those customers have seen your message and if they have, how long ago it was reviewed. You will be able to observe this within a conversation or review it directly from your messaging dashboard.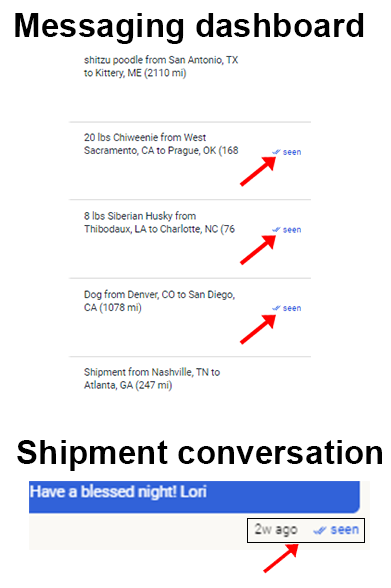 If you determine a customer has seen your message but has not replied, send him or her a follow-up. A lot of drivers are discouraged by the fact they are new at CitizenShipper and wonder if this is why the shipper shows no interest in their bids. Here's a tip - play that "newcomer card" in your favor! Follow up with something like:
"I know I am completely new at this but we were all new at something and this is exactly why you should hire me! I would be honored for your pet to be my #1 transport on CitizenShipper and I appreciate you for allowing me to prove to you how dedicated I am towards providing you with exceptional service."
You can also consider asking an easy-to-answer question to get a conversation started. Follow-up by asking things like:
How old is your pet?

Does your pet have any special diet requirements?

Do you have your pet's latest vaccination and health records?

Are you aware if your pet suffers from motion sickness?

Do you have a dedicated budget for this transport and how soon do you need it done?

Does your pet have any favorite food or toy you could supply me with to make this trip easier for him/her?
The first step to winning bids is capturing the shipper's attention. One of the best ways to stand out from the crowd t is to be persistent and ask questions. Don't be afraid to send multiple follow-ups. Successful transporters regularly send up to 3 messages if the customer does not respond.
Regardless of how and when you communicate with customers, keep in mind that your words count. While short replies and one-word answers may suffice for other conversations, you want the content you send to customers to be personable, natural, and engaging. It should reflect your personality and drive toward building a relationship, not just a contact stream.
For example, if you sent a request for a bid to ship a pet, which of these two messages would you be more likely to respond to?
—
Message #1:
I'll be in the area next week. I could do this for $500.
Message #2:
Hey there! My name is Candace and I'm an experienced transportation provider with a perfect safety record, clean license, and full coverage insurance. I've been transporting dogs for three years now and LOVE animals. We stay in pet-friendly motels for the trip, and we secure your pet safe during the transport in a carrier. I'll make regular rest stops and I'll also send you regular pictures so you can see that your baby is happy and safe. Before I place a quote may I ask if you have a budget in mind?
—
The overwhelming majority of the shippers who use our site choose Message #2. Why? Here's a few techniques that were included that you can consider when creating your message content:
Make the content about THEM and THEIR shipment vs making it about YOURSELF.
Be concise and organized in your responses. Break one long sentence into 2-3 shorter ones.
Be truthful and set realistic expectations; they're looking for a HUMAN and not a ROBOT.
Seek to put the shipper at ease, they are entrusting something of value to you – let them understand you know that.
Always maintain a professional demeanor and be yourself. Let what is special about your transport service speak for itself.
For additional help developing your customer communication process, consider attending one of our driver webinars. You can find more information or sign up for the next no-cost, online session here. We're here to help you succeed!
---
With these tips under your belt, you should be ready to start placing bids with confidence - which is the main point of discussion in our next chapter, click on the Complete button to proceed!
Got any questions? Use the comments below and let us know how we can help :)
Complete and Continue