[Lesson 5.1] Advanced search and route creation
Now that you've won your first shipment and have a handle on the basics of providing superior transport service, it's time to take it up a notch. One of the best ways to accomplish this is by fine-tuning how you find shipments. To help you do this, we'll explore the following steps:  
Step #1

: Mastering the shipment search tool

Step #2

: Thinking outside the box 
---
Mastering the shipment search tool
You've delivered your first shipment and are about to head for home. You're thinking about the driver ahead and then the thought crosses your mind. "I bet there's something I can transport along my route to make the most of this trip!".  The shipment search tool, which was mentioned in lesson 2.4, now becomes your new "best friend". Remember, potential transports that appear in your recommended shipment tabs defaults to the location you indicate in your settings. You receive notifications for shipments to bid on based on your home location settings. 
To find shipments originating from another location - like where your delivery drop-off is - all you have to do is change your location setting specifying your home state as the destination. Let's use the state of Florida as an example.
EXAMPLE: 
Say that you've just won a trip from Orlando, Florida that goes to San Francisco, California, and you are now looking to find a return trip. The usual first step is to check if there's a shipment  going from California to Florida directly that fits your dates: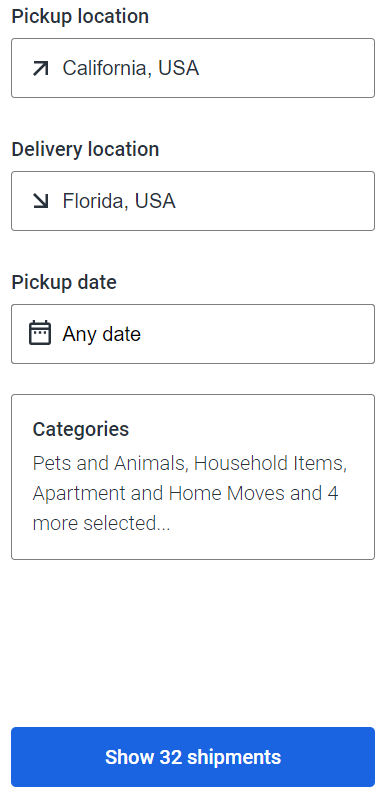 Let's assume for this example, that you weren't able to find a direct trip back.
In this case, specify only the state of Florida as the destination and specify your preferred dates. From there, click on the blue button at the bottom to review all shipments matching your criteria.
You find a shipment matching the direction of your travel from Oklahoma to Florida. It takes about 2 days of driving to get from California to Oklahoma. That's one shipment. 
But, are there any shipments you can add on your way there? From California to Oklahoma? 
Go 2-3 days back and search for deliveries going to Oklahoma. You find one with a pick-up in  Phoenix, Arizona. That's 2 shipments.
The final step is to see if there's a shipment near where you are now in San Francisco headed to Phoenix, AZ. . You find a positive match - a shipment matching your dates going from Richmond, CA to Phoenix, AZ - a city just 18 miles away from your delivery in San Francisco! That's 3 shipments!
For a visual flow of this process, please follow the chart below: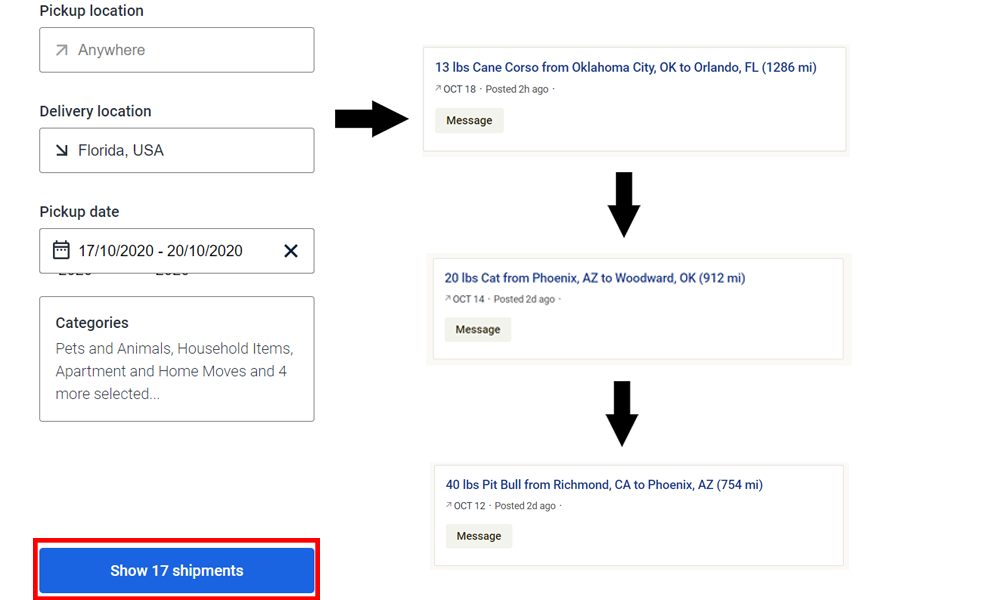 The approach is simple. Just change your location to where you are when you drop-off your first delivery and set your trip destination to your home state and WORK you way BACK from there. Suddenly one shipment becomes four by adding 3 shipments along your route home!
---
Thinking outside the box 
Want a reason to go somewhere you've always wanted to go? This approach supplies it. First, focus on winning a great shipment somewhere specific in the US. Then, using the shipment search tool, create a route there and back that includes transports along the way.! There are many ways this approach can be applied. The video below is your best resource to learn how to "think outside the box" and make the most of every transport.
---
We hope these two approaches provide some insight into how you can find additional opportunities for your transport business. We understand routing can be challenging but is definitely worth the time you put into it. And we're here to help you master the process! We welcome your questions in the comment section below!
Complete and Continue