[Lesson 1.3] Verifying your account
At CitizenShipper, safety is among our highest priorities. We are thoroughly invested in creating a safe community for customers and transporters alike. That's why in this lesson, we will look to accomplish the following:
Step #1

: Account activation.

Step #2

: Completing your ID verification (with best practices)

Step #2

: Completing your Security Check (and confirming your phone number).

Step #3

: Activate your Trial.
---
Account activation
Creating your account is one part of the success formula, but to complete it, you have to confirm your account with CitizenShipper, as this will allow you not just to start bidding, but also get real-time notifications listed in your desired area. More on that in the next chapter, for now, follow these instructions on how to verify your account:
Before you start navigating through the marketplace and understand how it works, make sure to check your email inbox. You should have received an email letting you know how to activate your account.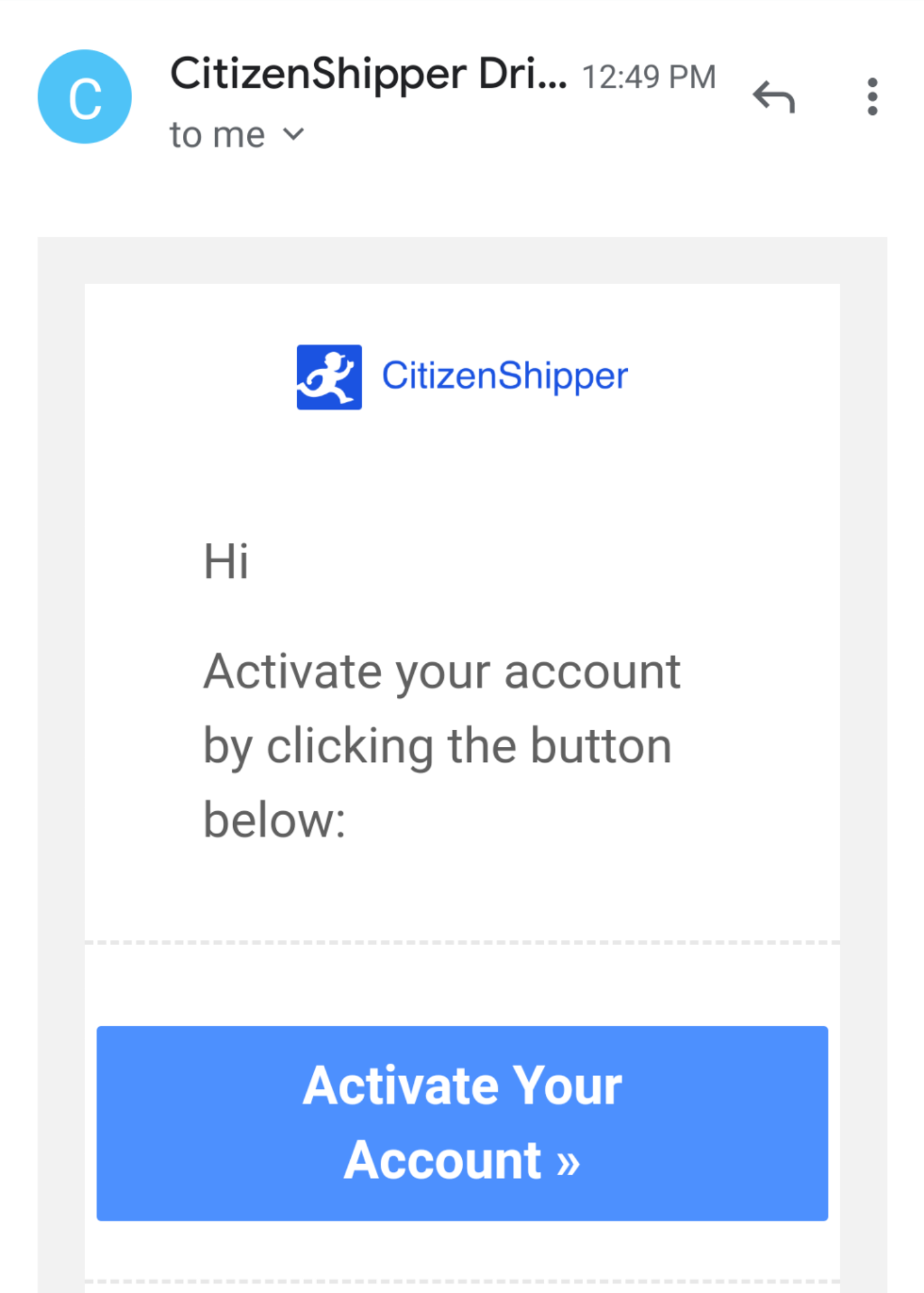 In the case that iPhone this email is not in your inbox within a couple of minutes after signing up, make sure to check your spam/promotions folder. To get all future emails sent from us to come to your inbox, please check out this article.
BONUS: Create a bookmark
Since CitizenShipper is currently available for use in a web browser, the best way for you to create an in-app like experience using our marketplace is to create a bookmark/icon on your phone. This is a very useful step because, if created properly, it will eliminate the need for you to log in to your account every time you want to use our website. To learn more about how to complete this process, check out our video tutorial available here.
Completing your ID verification
Trust is at the core of the transportation business – no trust, no business. You must therefore do all you can to ensure that your profile appears trustworthy to potential customers. The first step in this process is to confirm your identity and your background are real and clear.
For the purpose of conducting identity verification online, CitizenShipper works with Stripe. Stripe builds technology that's used by millions of companies around the world like Amazon, Google, and Zoom. They help with everything from accepting payments to managing subscriptions to verifying identities and they will ask for your consent before collecting and using your information. They will only use your verification data in accordance with the permissions you grant before starting the verification process, and based on their Privacy Policy.
Best practices for a successful verification
Before starting the verification process, here's what you need:
A valid government-issued photo ID document. Not a photocopy or a picture of an ID document. Ensure that the ID document is not expired.
A device with a camera, if possible, use a mobile device. Cameras on mobile devices typically take higher-quality photos than a webcam.
The quality of the images captured affects success rates dramatically. Below are a few best practices to help ensure that your verification succeeds:
Capture a clear image. Make sure that the images are not too dark or bright, and don't have a glare. Hold steady and allow your camera to focus to avoid blurry photos.
Do not block any part of your ID document in the image. Ideally, you can lay it flat to take the photo.
Do not block any part of your face. Remove sunglasses, masks, or other accessories.
Find a location with ambient lighting. Avoid spaces with strong overhead lights that cast a shadow on your face or ID document. Avoid sitting directly in front of a bright light which can wash out your face and add a glare to your ID document.
From there, navigate to your verifications tab and access the identity verification portal: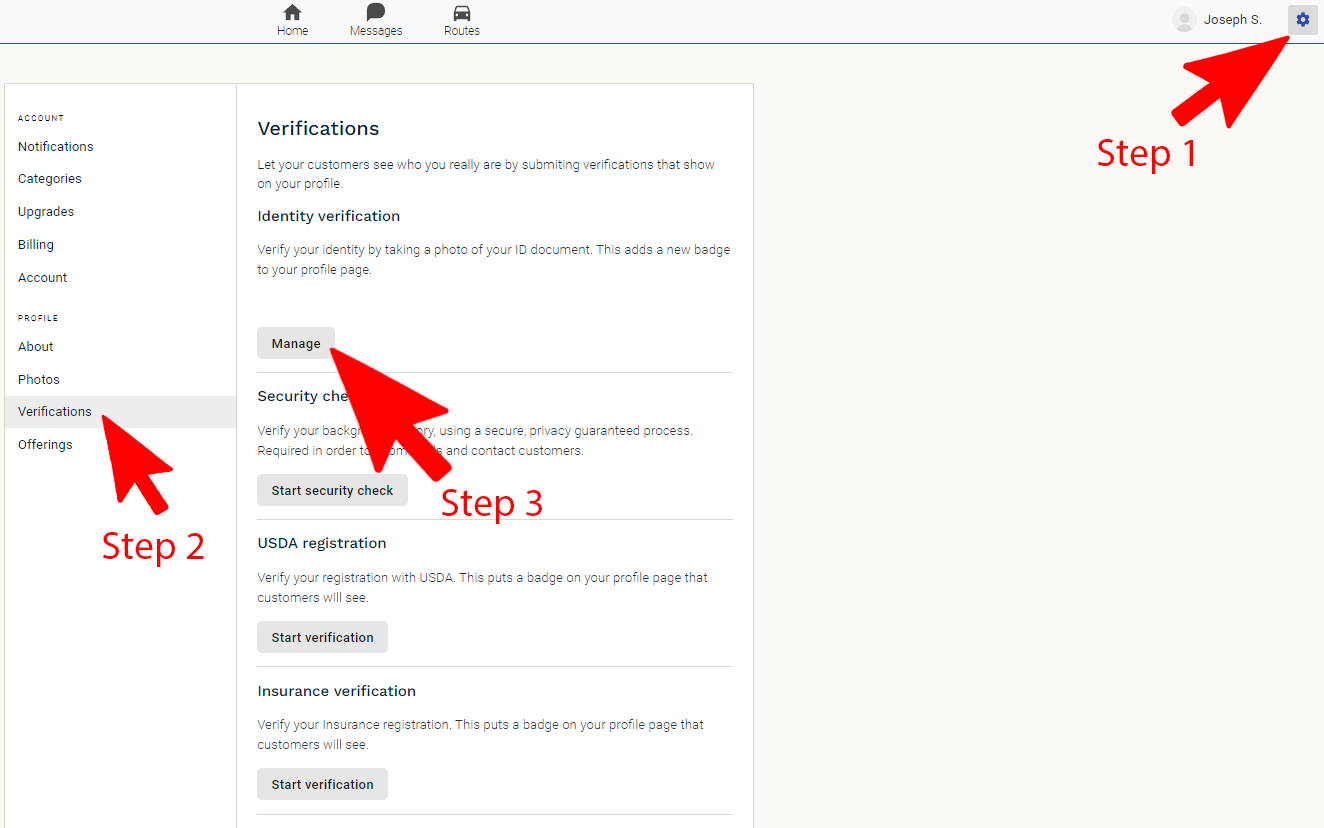 Upon initiating the ID verification process, you will be redirected to Stripe Identity. Follow the prompts and as advised above, apply best practices when taking photos of your ID to ensure smooth and easy verification process. If at any point it time it feels more convenient, you can switch and complete the verification process using your mobile phone in case you initiated it on desktop: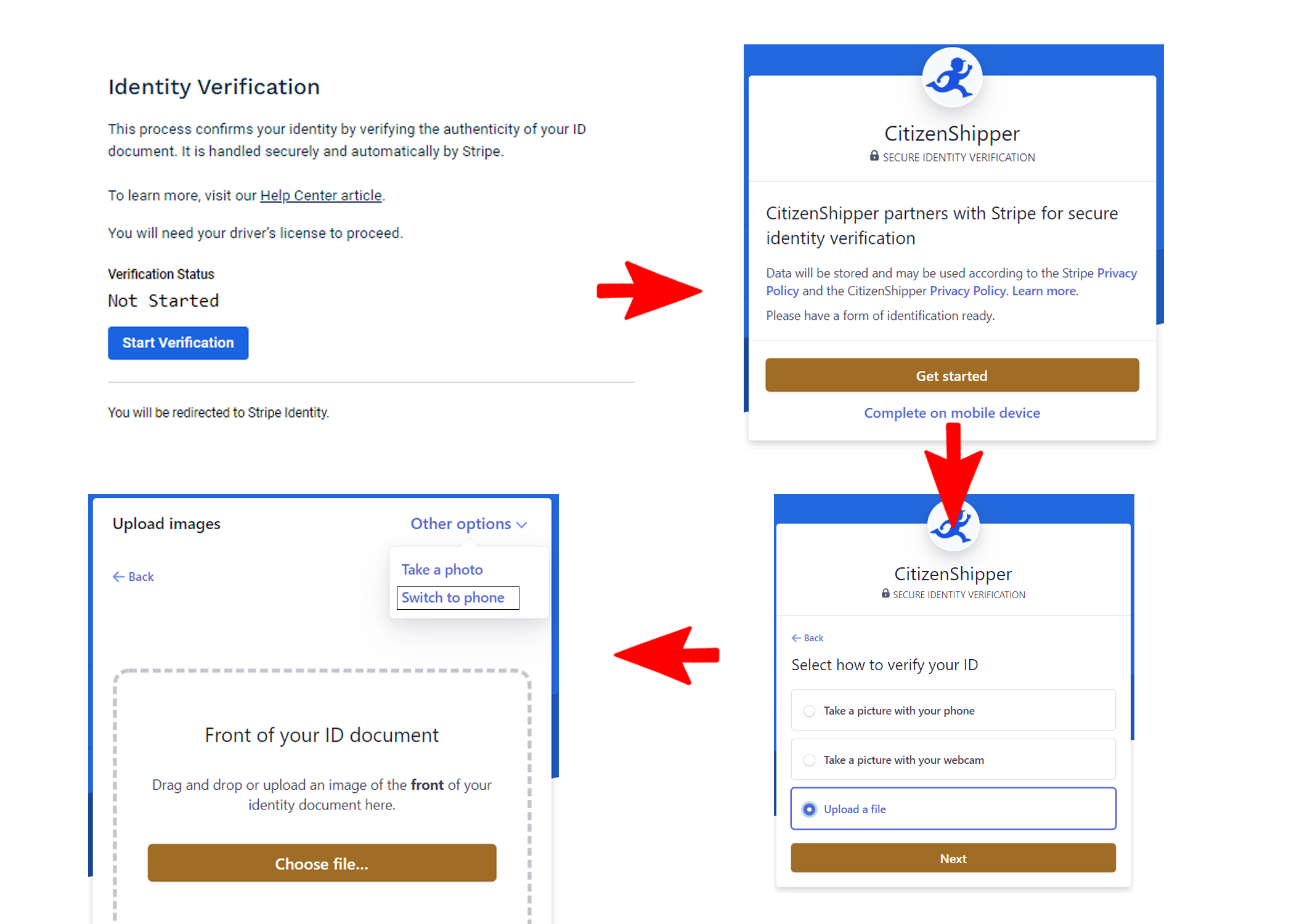 Once the process is complete, you will receive your first profile badge!

Completing your Security Check
The same page from which you've accessed the ID verification portal - verifications tab of your profile settings page, is a great place to start with completing your security screening process. Before placing bids on shipments or communicating with prospects, we require all drivers to submit their information for a background check. For more details on this, please consult our Background Screening article.
To access your Verification section follow the screenshot below or click here if you are already logged in 👇.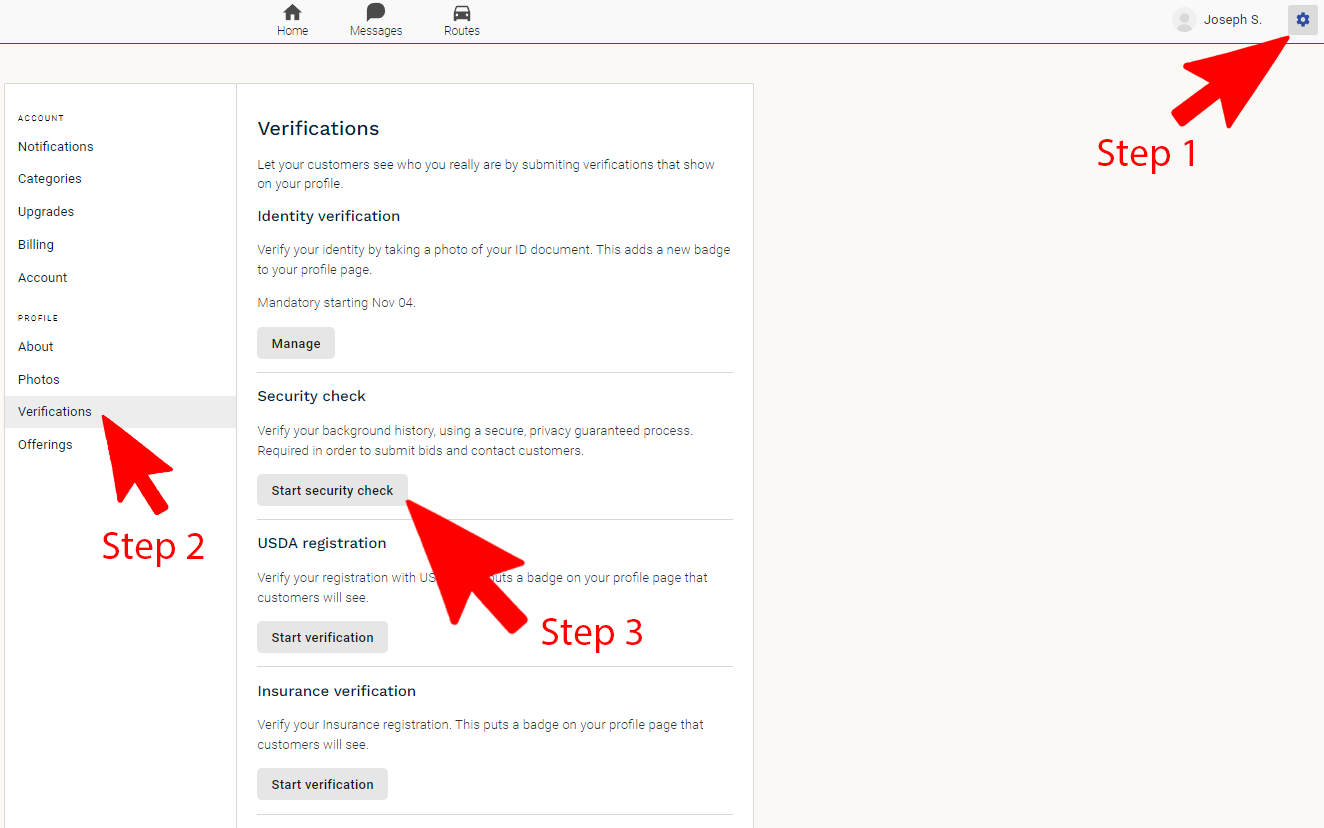 From the verification section, you can click on Start Security Check, this will take you to the phone verification form.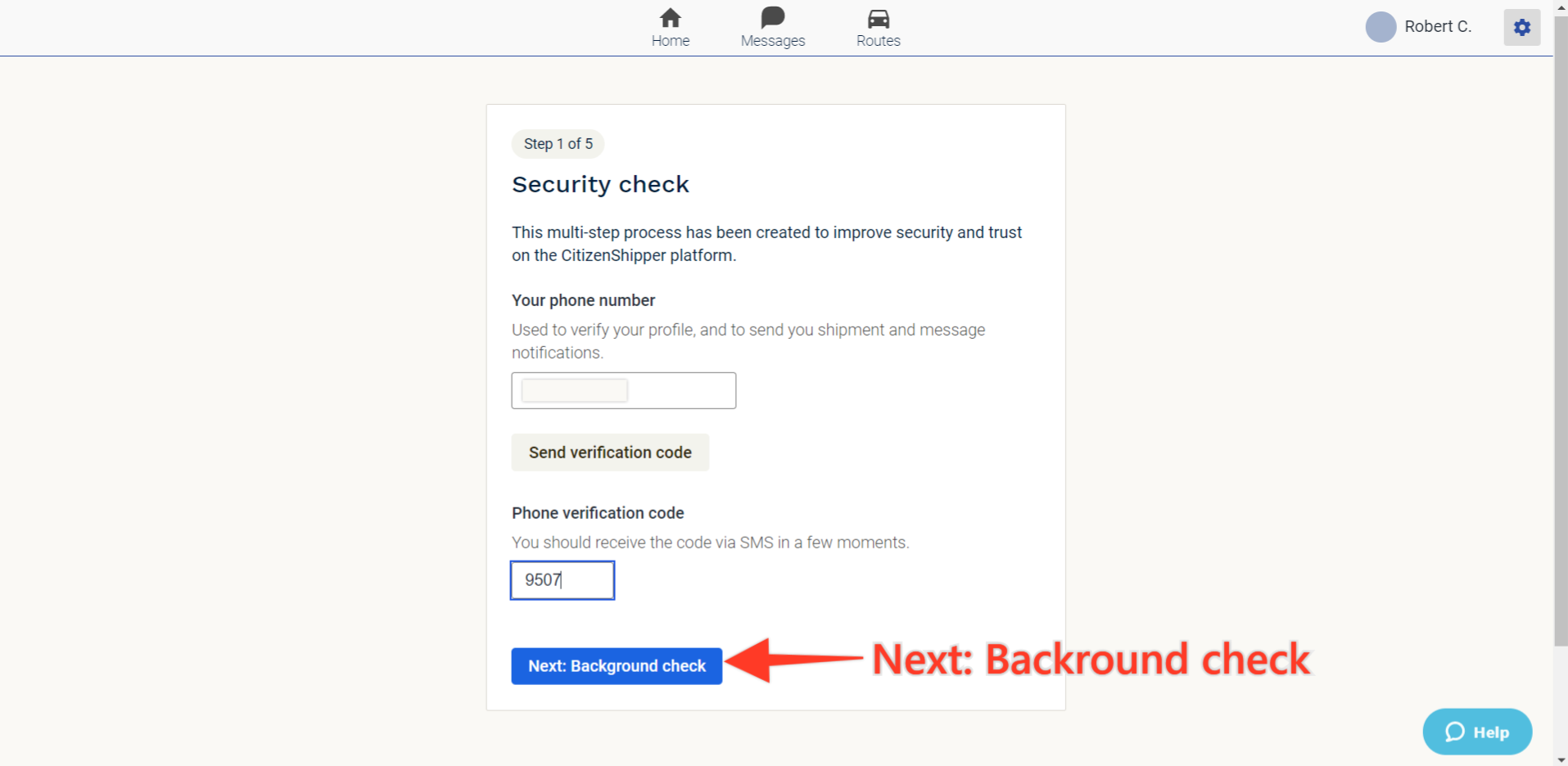 After providing the phone verification code and completing step 1 out of 5 in your security check; the next step will be providing info for your background check - as illustrated below 👇
After completing step 2 out of 5 you will be directed to a page summering your rights under the Fair Credit Reporting Act.
Please pay attention to Steps 3, 4 & 5 which contain important information that should be reviewed to understand your rights.
Note: As soon as you've submitted your background info, you can start bidding and messaging. However, your free background check won't be processed until you've won a shipment.
Shipment Winning Tip - Expedite your background check!*
We know that having a completed background check and the Background Certified achievement badge on your profile is a major factor in winning shipments. That's why we offer an expedited background check for a $10 deposit. When you take advantage of this offer, your background check will be sent for processing immediately - waiving the first shipment booked requirement. You'll be able to use your game-changing Background Certified status to help win your first shipment - and every one after that! Best of all, we'll refund the $10 when you win your first shipment! To take advantage of this expedited process:
Submit your background information normally, and it will be forwarded to Checkr.

Email us with the subject line "Activate Background Screening".

We process a payment of $10 to your credit card to expedite your screening.

Checkr runs the background check immediately, with results coming in 1-3 days.
As soon as you pass the background check, your Background Certified badge will appear on your profile to make customers aware that you're a reliable transportation choice.

*In order for CitizenShipper to expedite your background verification, you will need to add a card to your account, learn more about how and where to add a card in the next step
Activate your Trial
CitizenShipper offers a free trial period of 30 days. It's in our best interest that you succeed, which is why we're giving you plenty of time to test-drive the site for free. You can cancel at any time during the trial period, with no subscription fees due.
After the one month is up, we start charging a monthly subscription fee of $29.99. This comes with a money-back guarantee for the first 30 days. So in effect, you get to test-drive CitizenShipper completely risk-free for two months.
Let's walk you through the steps:
Click the settings wheel in the top right corner.
Then, click the "Upgrades" tab. Here's is where you'll activate your cardless trial.
Click the "Manage" button! This will activate your first and one of the most important account features - Messaging!
You have 30 days until your trial period is up to add your card details.
Your subscription renews automatically each month.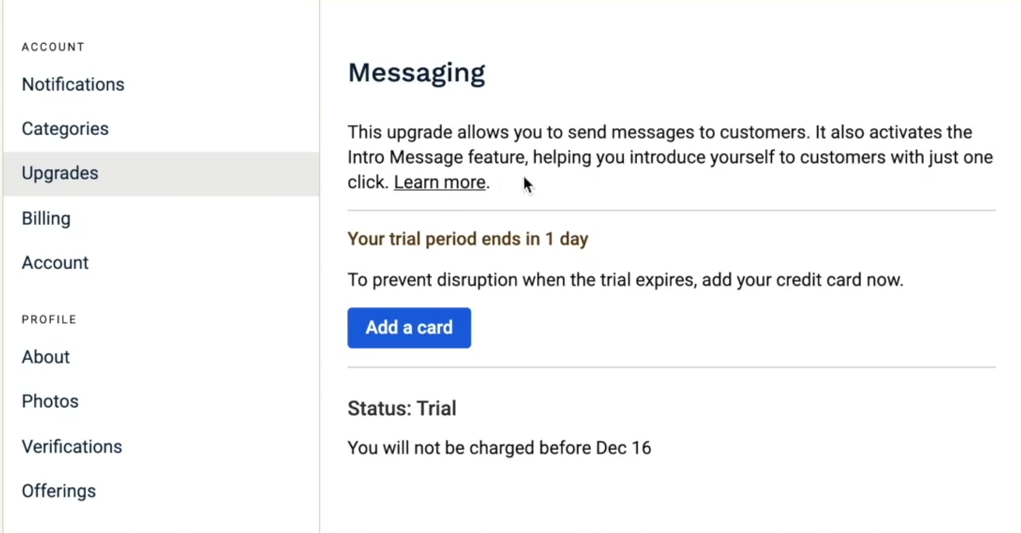 Changing Card Details
If you need to change your card information, you can edit your credentials in the "billing" settings, below the upgrades tab!
Click on the "Change card" button to enter new credit card details or update the info for your existing card. Once you've saved your changes, all future charges will be made against this credit card. The billing tab is also where you can view any previous subscriptions charges and credits issued to you.
Pausing Account
Whether you are planning an extended vacation, dealing with family matters, or just taking a break, you can pause your subscription for up to a month at a time. No charges will be made while your account is paused. Visit your upgrades tab and click "Pause Messaging". While paused, you won't be able to communicate with customers.
During this period, you can manually resume your subscription anytime. Note that as soon as you do, a new billing cycle is started and a new invoice is generated.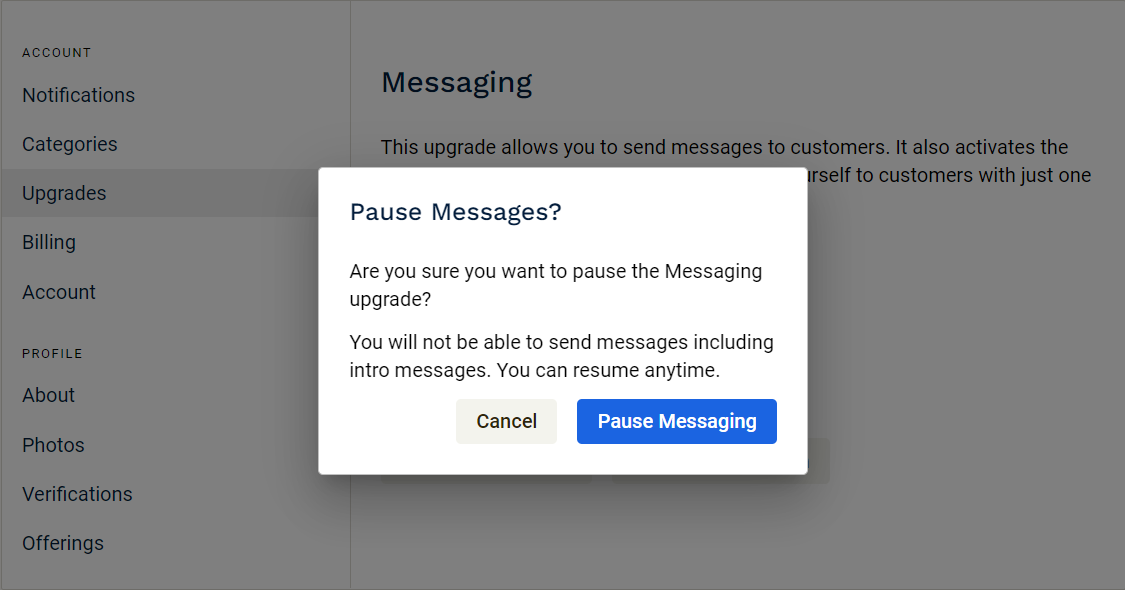 Now that you understand how subscriptions work, we're looking forward to seeing you become a success on our platform!
Remember! You will not be charged the monthly subscription fee of $29.99 until after your 30 day free trial has expired.
Congratulations, you have activated your account, completed your background check, and activated your trial!!! 🙌
---
Congratulations on being a step closer to winning your 1st shipment. Please let us know if you have any suggestions to make this guide more helpful by telling us what they are in the comments section below.
Complete and Continue